Andrei Stanciu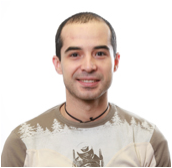 Contact Details:
Email: m.a.stanciu@bangor.ac.uk
Tel: 01248 382943
Brigantia Building Room 251
http://twitter.com/MAndreiStanciu
I have joined Oliver Turnbull's lab in 2010, as a PhD student, after completing my undergraduate degree at Bangor University, studying the effects of competitive conditions on emotion based learning and Schadenfreude, under the supervision of Dr. Caroline Bowman.
I am currently in the 3rd year of my PhD, entitled "Emotional Learning in Amnesia" and I am looking at the modulating effect of emotions on memory.
My main research interests are in the field of affective neuroscience, with a focus on the elicitation of various forms of emotional experiences, and their different interactions with long term memory and executive functions in a range of neurological conditions.
For the past two years I have also been a Teaching Assistant on the Statistics and Research Methods undergraduate module, and I have jointly supervised five MSc students for their final research project.
In an earlier career, after graduating in Business Management, with a major in Service Sector Management, I have spent seven years in the business sector. At the end of a five years spell as Consumer Market Researcher and then Advertising Communication Strategist, I have turned my attention to the two key factors (emotions and memory) which drive the behaviour that I was trying to understand and influence commercially. Since then, I have become interested in the mechanisms which characterise the formation and retrieval (or possibly re-activation) of memories and associated emotional experiences, when the underlying anatomical structures are intact, or show various forms of impairment.