Christian Salas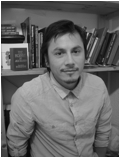 Contact Details:
Email: pspa35@bangor.ac.uk
Tel: 01248 388895
Brigantia Building Room 252
I'm a psychodynamic psychotherapist and a neuropsychologist. Before moving to Bangor (2008) as a PhD student, I worked as a clinical neuropsychologist in a neuro-rehabilitation clinic, in Santiago/Chile, for seven years. My studies are funded by a scholarship from the chilean government. Today I'm based in Manchester, England, where I live with my beautiful wife and amazing son.
The topic of my PhD is "Emotion Regulation After Brain Injury", and its central goal is to generate theoretical and empirical bridges between both fields. My main interest is the use of intrinsic and extrinsic types of emotion regulation in patients with brain injury, and how different profiles of cognitive impairment compromise the use of specific emotion regulation strategies. Other topics of interest are:
Assessment of emotional processes in brain injury
Adaptation of psychotherapeutic tools to brain injury population
Concrete behavior after brain injury
Neuropsychoanalysis
Some of the my current projects
Voluntary regulation of facial expressions after brain injury.
The use of re-appraisal in patients with brain injury
Emotion regulation and executive functions during adolescence.
Emotion regulation and anxiety.
Selected publications:
Salas, C. E., Vaughan, F., Shanker, S., & Turnbull, O. (in press). Stuck in a moment: Psychotherapy and concreteness after brain injury. Neurodisability and Psychotherapy.
Salas, C.E. (2012). Surviving catastrophic reaction after acquired brain injury: the use of sel-regulation and self-other regulation. Neuropsychonalysis.
Salas, C.E.., Radovic, D., Turnbull, O. (2011). Inside-out: comparing internally generated and externally generated basic emotions. Emotion.
I have an external website devoted to neuropsychological rehabilitation and neuropsychoanalysis (mostly in Spanish, but with English material to): www.rehabilitacionneuropsicologica.com