Hana Pavlickova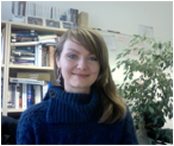 Contact Details:
Email: psp859@bangor.ac.uk
Tel: 01248 383254
Brigantia Building Room 248
My PhD is entitled "Identification of psychological and biological vulnerability markers in adolescents at high genetic risk of developing bipolar disorder", and is jointly supervised by Prof. Richard Bentall (University of Liverpool) and Prof. Oliver Turnbull.
As the title suggests, the main goal is to investigate whether a similar cognitive profile to that of patients with bipolar disorder could be identified in individuals who are well, but genetically at high risk of developing the illness. Identification of such vulnerability markers would contribute to our understanding of the aetiology of bipolar disorder, and to the development of targeted preventative interventions.
Research interests related to bipolar disorder include
The role of self-esteem and attachment style
Emotional and stress reactivity, and their link to cortisol
Publications:
Pavlickova, H., Varese, F., Turnbull, O., Scott, J., Morriss, R., Kindermann, P., Bentall, R.P. (in press). Symptom-specific self-referential cognitive processes in bipolar disorder: A longitudinal analysis. Psychological Medicine.
Pavlickova, H., Varese, F., Smith, A., Myin-Germeys, I., Turnbull, O., & Bentall, R. P. (under review). The dynamics of mood and coping in bipolar disorder: Longitudinal investigations of the inter-relationship between affect, self-esteem and response styles.